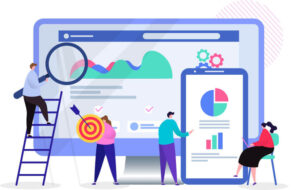 Since the blast of internet, different companies have taken keen interest in search engine marketing (SEM). With that being said one doubt in your mind might be what exactly is search engine marketing?
Technically it can be defined as a digital marketing strategy that include promotion of website by increasing visibility in search engine result pages primarily through paid advertising.
Here brands pay for ads to appear as search results on search engine result pages.
Whenever we search for a product, we get organic results and paid ads on webpages, organic result comes under search engine optimization and it is quite different from search engine marketing.
here we need not pay for the ranking our site and it includes careful manipulation of keywords and many other things.
This topic won't be discussed here as our main goal is to know about search engine marketing. Popular search engine marketing tools include Google ads, Bing ads, Pinterest ads, YouTube search ads.
Ads are known by the term Pay Per Click (PPC) which comes as text-based ads or as Product listing ads.
PPC is an internet model used to drive traffic to websites, in which an advertiser pays to a publisher (typically a search engine, website owner, or a network of websites) when add is clicked.
Overview of Ads In Search Engine Marketing
With search engines, advertisers bid on keywords relevant to their target market and pay when ads are clicked.
Text based ads are advertised using text-based hyperlinks, one powerful advantage they have is they download almost instantly and are not affected by blocking software.
"People shop and learn in a whole new way compared to just a few years ago, so marketers need to adapt or risk extinction."
– Brian Halligan
Product Listing Ads are more visual and include reviews and rating and are more engaging with user. They are often referred to as shopping ads.
Two primary search networks that SEM professionals target are Google ads (formerly Google AdWords) and Bing ads.
How Search Engine Marketing (SEM) Works?
Search engine uses complicated algorithms to make sure that relevant results are provided to the users along their location and other valuable information.
These results appear on top and side of search engine results to gain more visibility and prominence than organic results.
Let's say we search by relevant search terms (also known as keyword) for a particular product in search engine.
In search result page we will come across organic results along with ads whose keywords match keywords in our search.
"Relationships are always built on trust. It is not the advertisement that may enhance the trust factor among the target audience. It is the content that makes everything different that builds the trust factor."
― Hecate Strategy
Here paid list is highly relevant to our specific search, making it likely that we can click on them. Now with marketer's perspective campaigning their product in a network is very important and their main emphasis will be on
Choosing right keyword for their product-
Choosing geographic location for their ads to be displayed within
Create text-based ad to display in the search results
Bid a price they are willing to pay for each click on their ad.
5 Matrices to Optimize Website In Search Engine Marketing
KEY-WORD RESEARCH & ANALYSIS: This involves 3 steps. Making sure that this site is indexed by the search engine, finding the most relevant and popular keywords for site and products and using this keyword on a site that generate the traffic and convert traffic. After this we have perception impact, this describes the identified impact of a brand's search result on consumer perception.
WEBSITE SATURATION AND POPULARITY: Online searching is often the first step for potential customers, the perception impact shapes the brand impression (link from another website to that web resource), for these to happen careful manipulation of keywords is required. Manipulation must be proper and not just random usage of keywords many times, this might not impress the customer.
BACK END TOOLS: Web analytic tools and HTML validators can be used to access data regarding the no of customers website has been visited and how much customers have purchased this product. This can be very handy to access the success or failure of website and different steps through which we can improve website ranking
WHOIS TOOLS: reveal the owner of various websites and can provide valuable information relating o copyright and trademark issues.
GOOGLE MOBILE FRIENDLY WEBSITE CHECKER: This test will analyse a URL and report if the page has a mobile friendly design.
Important Factors In Search Engine Marketing
SEM is a way in which a website is created and edited in order to rank higher and reach more people.
"The aim of marketing is to know and understand the customer so well the product or service fits him and sells itself."
– Peter Drucker
2 important factors to which search engine marketers concentrate is keyword research and pay per click advertising. Advertisers can bid on specific keywords or phrases and ensure ads appear with result of specific search engines.
With these developments, advertisers are ready to invest more money to get higher ranking as competition is very much.
With that being said one common question you guys have is how much money must we spend, well it defers from Google AdWords to Facebook ads to Instagram depending upon its popularity.
Levy on Ads In Search Engine Marketing
The average cost of an advertisement on Google ads (AdWords) is $2.32 per click on search network.
The average cost per action (CPA) in a Google advertising search campaign is $59.18.
The most expensive keywords in Google advertising and Bing ads costs $50 or more per click. This are generally highly competitive keywords in industries that have high customer lifeline values, like law and insurance.
The average small business using Google advertising spends between $9000 and $10000 per month.
The minimum average cost per click of an online Facebook ad is $1.72. The average cost per action on Facebook ads is $18.68
The typical CPM on Facebook Ads is around $10.
The typical CPM for an Instagram ad is closer to $5.
The granddaddy of internet advertising google AdWords is an integral part of internet and largest online platform. As people say google is an advertising business that owns a search engine.
Google gets lions share of its billions of dollars of annual revenue from online advertising.
which in turn has enabled the company to stay on the bleeding edge of search technology.
Ethical Questions on Search Engine Marketing
Paid advertising without the question has been useful for mankind but there is always a question of safety and paid search advertising has not been exempted from controversy and issues.
The federal trade commission issued a letter in 2002 about the importance of disclosure of paid advertising in search engines.
In response from the complaint from Commercial alert, a consumer advocacy group with ties to American political activist Ralph Nader, a noted personality for his involvements in consumer protection, environmentalism and government reform causes.
There have been several concerns over Trademark infringement, that is whether third parties should be allowed to bid on their competitors brand name.
In 2009 google allowed their policies and allowed third parties to bid on the branded terms as long as their landing pages provides information on the trademarked term.
These policies have been changed several times and became a topic of debate.
In 2012 google started to penalize companies that are buying links for the purpose of passing of rank.
Several penguin and panda updates later have been prepared to fight against this kind of frauds and to maintain safe environment.
CONCLUSION
Paid search engine marketing can transform your business. It can rank your website in top of the search result, it can land you with lot of customers.
Search engine marketing is most affordable and effective type of advertising with lot of flexibility.
we can choose the budget and advertise our business.
Paid search can boost brand visibility, land traffic and clickthrough seal more conversation and ultimately land you with business.
If you think you are not technically knowledgeable you can get professional help through advertising agencies who run add campaigns.